Barbara and Richard Mearns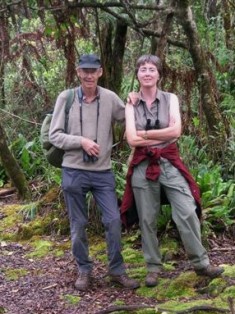 Barbara and Richard Mearns are British naturalists who have pursued their life-long interest in many parts of North America and Europe. For over twenty years they have been writing about the history of ornithology and the lives of hundreds of naturalists in their books Biographies for Birdwatchers (1988), Audubon to Xantus (1992) and The Bird Collectors (1998).
Now, for the first time, they focus their attention on just one person, John Kirk Townsend (1809-1851) whose contribution to the development of zoology in North America has never been fully appreciated. The breadth and scope of their previous research on both sides of the Atlantic gives B. & R. Mearns a unique perspective from which to assess Townsend's importance and his relationships with eminent contemporaries such as Thomas Nuttall, John Bachman, the Baird brothers and John James Audubon.
During the last ten years Barbara has been working for A Rocha, a Christian conservation organization with field study centres in Canada, Kenya, Portugal, France and the Czech Republic. Other initiatives include the protection of the Aammiq Wetland in Lebanon and sustainable income-generating projects helping impoverished communities and saving savannah drylands in Ghana. She currently runs the international office, overseeing communications which includes the website: www.arocha.org
Richard has studied Peregrines in SW Scotland and Greenland, and Corn Crakes in the Outer Hebrides. After twenty years as a ranger responsible for the Southern Upland Way long-distance trail, he is now working as a freelance ecologist, writer and photographer from their home near Dumfries.